We assist to get tax code for non-residents.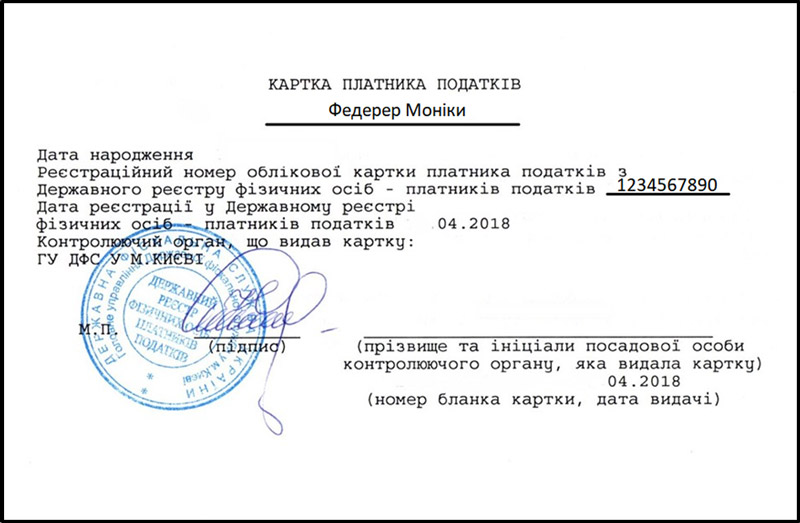 Tax code – it is an individual ten-digit unique code of the tax platform in the State Register of Individuals, which is a personal number for the payment of taxes and other mandatory taxpayers issued to non-residents of Ukraine, regardless of age.
Foreign citizens shall apply for tax code to Tax Authority of Kyiv, Sevastopol or relevant regional (oblast) Tax authority.
The tax code of a foreign citizen and a citizen of Ukraine are exactly the same.
A foreigner needs a tax code to:
Signing notarized contract, issuing power of attorneys.
Setting up a company in Ukraine.
Employment.
Submitting tax returns in Ukraine and paying taxes.
The term for issuing an identification code or duplicate, re-issuance or making changes to the card is 5 working days.
You can visit tax inspection personally or make a power of attorney to our lawyer, and he will do it for you.
We would need the following information/documents from the client:
| Documents/information | Client | Laudis Law Firm |
| --- | --- | --- |
| Passport | + | |
| Translation of a passport into Ukrainian with notarization | | + |
| Application form | | + |
| Сopy of the page with information about the last entry into Ukraine | + | |
| Information of the permanent leaving address abroad | + | |
The cost of this service is 50$ + 1200 UAH (the cost of the notary)